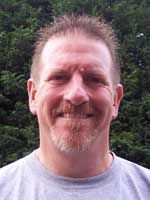 Coach Kevin
My involvement in swimming dates back to my childhood when I joined the local summer team at age 8, in order to "tag along" with my big brother & sister. They weren't too happy, but it began a slightly interrupted, lifelong passion for swimming. I swam competitively from then until my college graduation. I still hold a few records at King's College in Wilkes-Barre, PA, including the two oldest records on the books! I continue to swim daily to both keep my swimming skills sharp & to constantly remind me what it is I'm asking swimmers to do and what it takes for them to do those things. I also compete as a masters swimmer, which goes a long way toward putting my money where my mouth is, so to speak. It doesn't hurt my credibility either, when I talk to impressionable young swimmers about what is important if they want to succeed in the pool. I don't think that coaches have to be good at what they teach, but it sure helps. Actually, "walking the walk" adds a dimension of understanding and intuition that are invaluable when teaching a subject, especially swimming. I do firmly believe that almost anyone can coach, but not anyone can teach. And there's no doubt that the best coaches are teachers first.

I began coaching with Total Immersion Swimming back in 1999. I was soon directing workshops in 2000 & have coached at & directed well over 200 TI workshops in the U.S., UK, Europe & the Middle East. That includes Weekend Freestyle Workshops, Weeklong Kid's Camps & 4 Stroke Workshops, as well as Teacher Training Workshops. From 2002-2007 I was Managing Director & Head Coach of Total Immersion Swimming in the UK.

I moved back to the U.S. in 2007 to open a Total Immersion Swim Studio, here in Castle Rock, CO. SwimTech is based out of our home, using a dual-current Endless Pool. We can teach any and every age & ability of swimmer from 6 months old to high-level triathletes & competitive swimmers. We offer lesson plans for every need, including private, semi-private & small groups up to 3 at a time. In addition to teaching, I have also coached 3 local programs - Town of Castle Rock Masters, Castle Crocs & Castle Pines Storm Swimming summer programs. I currently am Head Coach at Rocky Mountain Storm Swimming, a year-'round program for serious competitive swimmers.

On New Year's Eve, 2011, we headed out to Dubai, United Arab Emirates. We got an exciting, too-good-to-pass-up opporunity to run a swim school and start a swim team using TI's philosophy & techniques. We did just that and in April 2013 decided to strike out on our own to expand TI's presence in the Middle East & go back to work for ourselves. We're excited now to bring great swimming to folks in the Middle East & enhance as many lives as we can along the way!

Coach Sarah
Coach Sarah has been a swimming teacher & coach for the past 15 yrs., all in England 'til now! She has taught athletes of all ages & abilities, including world-class triathletes, masters & age group swimmers. She ran a swim instruction business, teaching kids from ages 6 months to 10 yrs. Her specialty is working with youngsters and she'll be the guiding light for
SwimTechKids
, the part of our business that will specialize in children's instruction. She'll was also be the coach for the little kids on our summer teams, Castle Crocs (2008) & Castle Pines Storm (2009). She currently works with the little kids on our year 'round team,
Rocky Mountain Storm Swimming
.
Sarah has extensive experience with
Total Immersion Swimming
instruction & has also trained with world renowned child swimming expert, Rob McKay, founder of
Lifestyle Swim School
in Boca Raton, Fl. In addition, Sarah swims regularly, so you can be sure she not only talks the talk, but she swims the swim! She's also excited to continue building on her success in England by helping kids from our area get the most out of their swimming.
It was love at first sight! We met in June, 2001 at a Total Immersion Coach's Workshop in New Paltz, NY. I was there to help new coaches learn how to teach TI & Sarah, along with 6 other English coaches, was there to learn how to teach it. Later that summer, in August, I got the opportunity to go to England to direct a 4 Stroke Workshop. Sarah & the other TI-UK coaches assisted & it was a huge success. Again that year, in October, I went to
Cheltenham, England
to direct a Weekend Freestyle Workshop. Once more, the TI-UK coaches were there and Sarah & I had the opportunity to get to know each other better. In early 2002, I travelled to England once more to work alongside Terry Laughlin,
Total Immersion Swimming
founder, to teach at 2 more workshops - a Weekend Freestyle Workshop in Manchester & a Weekend 3 Stroke Workshop in London. That was it for me!
Sarah & I realized we couldn't stand to be apart any longer & I decided to move to England. When Terry found out, he offered me the opportunity to start a UK sister company to
Total Immersion Swimming
. We did that in April, 2002, when I moved there. For the next 5 years, I ran & grew TI-UK, until returning to the U.S. in May, 2007. Sarah, and the other UK coaches from New Paltz, formed the core of an outstanding group of passionate teachers that were not only instrumental, but pivotal in that success.
In May of 2008, Sarah & I were married. Our "love at first sight" had endured a lot of turmoil & seemingly endless separations both at the beginning of our time together, but mostly during the year after I moved here. Because of immigration snafus, we had to be apart for a year, except for a couple of 6 week visits. Once again we're able to teach, coach & live together. We plan to make just as big a success of SwimTech as we did with TI-UK. We hope you'll join us in celebrating our love of teaching swimming.